Follow Friday—Cara From A Fashion Love Affair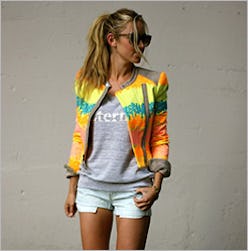 There's nothing sartorially sweeter than prim pastels and pops of color in the summertime—throw 'em onto a sunny blonde with the brightest smile and you get the quintessential summer girl. Whoever could we be speaking of? This week's blogger crush, Cara McLeay, of course! Not one to shy away from rainbow hues and whimsical prints, it's clear Cara, the brains behind A Fashion Love Affair, has fun with fashion—which is exactly the way it should be. Sidenote: her hair gives unreal mermaid vibes. You sure you're human, Cara?!
The Basics:
Cara McLeay, 29, Vancouver Canada
Her 5 summertime essentials:
A fabulous summer dress, a great pair of cut offs (One Teaspoon Bandit shorts are my current fave), Ray-Ban sunnies (I love the new folding wayfarers, perfect to toss in your purse!) a swim suit & striped long sleeve.
Currently coveting...
Isabel Marant Carol sandals, Clare Vivier leopard print clutch, Louis Vuitton keepall bag & Cecile The Brand Big C tee
Her style in 5 words:
Girly, Fun, Effortless, West Coast, Playful
Her summer entertaining essentials:
Fresh peonies, champagne and San Pellegrino with sliced lemons and limes! I love making fresh guacamole and home made tortilla chips.