These Lace Slip Shorts Are Perfect For Wearing Under All Your Summer Dresses — & They're So Comfortable
Meet your new top drawer staple.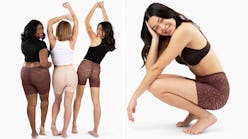 We may receive a portion of sales if you purchase a product through a link in this article.
An unexpected lingerie style I happen to adore: The full-coverage panty. High-waisted, low-cut-leg underwear is a whole look, equally ideal for lounging as offering more security under dresses and skirts. The next functional-yet-fashionable lingerie brand on my radar? Bloomers Intimates, a boutique underwear brand known for creating full-coverage briefs they describe as "comfortable, chic lingerie," tag words that immediately piqued my interest. The brand gained cult status after launching its lace briefs (Her Highness) and boy shorts (Knickerboxers). But with spring/summer dressing (and dresses) on the horizon, I'm particularly excited about their most recent style — a slip short, the cheekily named Panytloon, made of Bloomers' signature soft stretch lace.
The Bloomers mission is as attractive as their products. The founders believe that gorgeous lingerie and everyday undies can be one and the same; that many factors — from hormonal changes to childbirth — shape our undergarment preferences; and that when it comes to underwear, everyone, regardless of age, deserves a dash of everyday sexiness. Find out more about all three hero products below.
Shop Bloomers' Intimates Soft & Sexy Full-Coverage Underwear
1. The Stretch Lace Slip Short That's Perfect For Wearing Under Dresses
For a spicy take on the classic bike short silhouette, meet the Pantyloon. The newest addition to the Bloomers family, the Pantyloon is designed to offer coverage under dresses and skirts, but there's truly no wrong way to wear them. The high-waisted slip short hits at the top of the thigh, much like a pair of bike shorts — only this pair is made of soft, non-itchy stretch lace, crafted from a blend of nylon and spandex with a 100% cotton lining, and complete with scalloped edges designed to disappear beneath clothing. They can also help prevent chafing, thanks to those full-coverage legs, and the stretch lace provides ultra-light support for a smooth silhouette.
Reviewers confirm the Pantyloons perfectly balance comfort and aesthetics. One raved: "I was able to wear them all day and never felt them ride up or become loose. They were a great fit, and super comfortable. They also felt very light and breathable, on top of looking sexy and dainty because of the lace."
Sizes: XS — XXL | Colors: 5 | Material: 80% Nylon, 20% Spandex; Lining: 100% Cotton
2. The Classic Full-Coverage Briefs That Are Surprisingly Sexy
If sensible is a modifier you'd typically assign to the full-coverage brief, challenge that assumption with Her Highness, the brand's original style. Though they're comfortable enough to wear all day, the gorgeous stretch lace is also treat-yourself-indulgent, and they're available in a variety of chic shades ranging from neutral to vibrant. This style has a high rise and a full-coverage bum with edges that won't ride up underneath your clothes — and, unlike other full-coverage styles, they won't create VPL underneath clingier bottoms. Other key features include scalloped edges, light support, and that signature lace construction complete with four-way stretch that molds perfectly to your shape (though the gusset is made of 100% cotton for more breathability). The stretch also helps the briefs keep their shape — which is a good thing, since you'll reach for these again and again.
As one customer shared, "This is exactly what I've been praying for — super comfortable but head-turning, so I can relax and feel cozy while also looking hot. Who wouldn't want that?? After trying the first pair, I stocked up so I could get rid of all underwear that isn't from Bloomers."
Sizes: XS — XXL | Colors: 9 | Material: 82% Nylon, 18% Spandex; Lining: 100% Cotton
3. The Lacy Boy Shorts With A Lower-Rise Waistband
For the happiest of mediums between the Pantyloon slip shorts and Her Highness full-coverage briefs, consider the Knickerboxers boy shorts. Made of the same luxe blend of nylon and spandex lace with a pure cotton gusset, the Knickerboxers have a lower-cut leg and a slightly lower waistband that hits just below the bellybutton. One shopper gushed, "I love the lower rise boy short with the no show booty lines! My favorite cut. It's pinup girl cute!!" Whether you wear them to lounge at home with an oversized sweatshirt, or reach for them as the foundation to an outfit, these sophisticated boy shorts are sure to become a top drawer staple.
Sizes: XS — XXL | Colors: 5 | Material: 82% Nylon, 18% Spandex; Lining: 100% Cotton
Lace requires proper care, so it's worth mentioning that every purchase comes with a laundry bag to keep your Bloomers Intimates in pristine condition. And for those who want to give the gift of saucy, comfortable undergarments, gift cards are available, too.
If you've been looking for reason to upgrade your underwear drawer, Bloomers Intimates has just made it dangerously simple; it's time to make your unmentionables mentionable.
This article was originally published on