A luxurious night's sleep? Yes, please.
NCP/Star Max/GC Images/Getty Images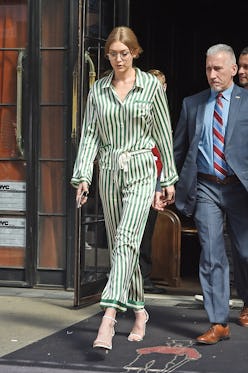 One of my favorite tricks for enjoying adulthood is identifying an essential, everyday activity and figuring out a way to make it feel special. The best silk pajamas do exactly that, bringing sumptuous texture to the necessity of sleeping (or lounging). And while it's true that silk is gentle on skin and hair, and can help keep you cool in warm weather, a great pair of silk pajamas can do so much more than elevate your bedtime routine — they're also polished enough to take you from the bedroom to brunch, then straight through to cocktails.
The quality of silk can be identified by its grade: A, B, or C. Each grade is then differentiated by a number (2 to 6), with 6A being the highest-quality silk. The higher the grade, the better the quality. You may also notice the term "momme," which refers to the silk's density; the higher the momme, the denser the silk (and, generally, the better the quality). Of course, real silk of any quality costs more than its synthetic satin alternatives; but if your priority lies more in the aesthetic, there are plenty of satin options that allow you to tap into the material's luxurious look and sensibility, without the investment.
Beyond their buttery-soft feel, silk pajamas are covetable for their day-to-night (or, rather, night-to-day) versatility. A tailored pair of silk pajamas can double as a sort of tuxedo; a robe can be worn open as a duster; and a nightgown looks effortlessly cool as a slip dress. Just trade your slippers for a pair of stilettos, boots, or slide sandals, and head out the door.
If you're ready to add some luxury to your top drawer, scroll on for 14 of the best pairs of silk pajamas available now.