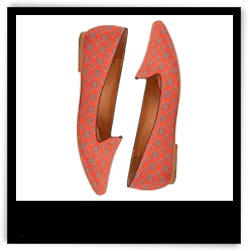 Heading back to school? Don't step onto campus without a new outfit or two! Study these sleek separates and you'll be on the right track to earn an A+ in style.
Joie, Day Dreaming Flats, $175
Stashing away summer sandals does not mean you have to forego all flats! Sink your feet into Joie's pointed silk slippers for a fresh finish to any outfit.
J.Crew , Toothpick Cords, $98
We're going to go out on a limb and guess that you don't have enough corduroy in your closet. Come autumn, pants like these burgundy beauts will be in high demand.
CLU, Silk-Trimmed Sweater, $290
A right of passage into fall, each year we can't wait to get our hands on a yummy new sweater, like this wool knit from CLU.
Kain, T-shirts and Tanks, $85 and up
Kain knows how to turn out un-boring basics better than most, so we recommend scooping up as many of their uber-soft layering pieces as possible for the upcoming season.
Topshop, Raglan Tweed Boyfriend Coat, $196
This fall, we're all about borrowing from the boys. Topshop's tweed coat is a great outerwear option for getting the look with its boxy structure and dark, contrasted colors.