This Perfectly Imperfect Trend Is Exactly What Your Wardrobe Needs For Fall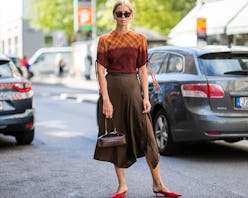 Growing tired of off-the-shoulder tops or those straight-and-narrow midi skirts? We get the appeal of both said items, however the novelty can wear off after extensive use, not to mention the impractical nature of select silhouettes (the constant sliding of some of these tops is a sartorial hindrance, if you ask us). That's why we are glad to hear that there's a new stress-free, edgy cut in town that can be incorporated into everyday style. We've been in the market for something more versatile, and the fresh asymmetrical trend sweeping the nation is fitting the bill. From a side-hemmed denim skirt to a one shoulder sweater, this provocative and bold look lends a unique twist, serving as the perfect style weapon in your wardrobe arsenal.
Now, when you initially think of asymmetrical clothing, visions of high-low skirts and dresses fill your mind. While that's definitely part of the trend, the fall 2018 collections are painting a more lop-sided, unconventional picture, as per the runways. Designers like Isabel Marant and Nicole Miller let it all hang out so to speak, with dramatically hanging hems and draped shapes that added a certain glamour and intrigue to their looks. Worn in more ways than one, this stylish trend will wrap around your collarbone, accent your décolletage and decorate your stems like never before.
Now don't get us wrong: The rules of symmetry have their place, but this off-center look allows us to break away from the rigid lines of perfection, which is probably why it's being so widely embraced by everyone, including Duchess Meghan Markle herself. (She's been spotted donning an asymmetrical neckline or dress on more than one occasion.) These harmoniously unbalanced hems create a modern and striking silhouette that signifies a look of confidence. Also, the interesting nature of an uneven top or hemline requires minimal styling and accessorizing as they build an artful presentation to your look, no matter how you wear them or what you wear them with. You can take any adored white or black tee, pair it with a vibrant, patterned asymmetrical skirt and you will automatically have a winning statement ensemble. In the same token, you can grab a one-shoulder blouse and throw it on with a pair of boyfriend jeans or denim shorts and you've got an equally head-turning effect. It's a closet staple that gets a new slant, literally.
We all know a trend loses traction quickly if it lacks versatility, and this one delivers in spades. Asymmetrical finishes—no matter how you choose to wear them—can we worn day or night, as well as into the fall (it's a subtle way to reveal some skin when the temps cool). So, whether you're ending the summer with beachside soirées or regulating the boardroom, the trend serves as a cool off-balanced look that screams modern sophistication.
Luckily, the sartorial world has already enthusiastically welcomed (and created) these uneven hemlines, so the options to make them your own are endless. Brands ranging from Zara to Alexander Wang have included these uneven pieces in their collections for fall, and we're all about it. From accented skirts with daring, sharp slits to more subtle slanted necklines, we are pretty much obsessed with all the perfectly imperfect pieces on the market right now. No matter your style aesthetic, there's an asymmetrical look that's perfect for you. To prove our point, we compiled some of our favorite pieces worth checking out. Get ready to think outside the lines.
Outside The Lines