New Label To Know: Anine Bing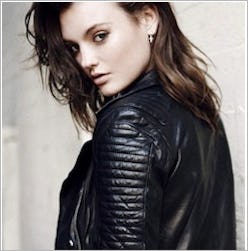 Danish-born, California-based designer Anine Bing launched her casual chic clothing line in 2012, after fans of her band Kill Your Darlings kept asking about her style. The easy-to-wear separates are soft with a bit of edge for the quintessential 'model off duty' look. Here are a few items from her line we are lusting after for fall.
Bing describes herself as a 'jeans and t-shirt' girl who loves to mix in leather to add edge.
Studded Boots, $699
These black studded boots are great paired with a printed dress or to spice up skinny jeans.
Leather Skinny Pants, $799
We're obsessed with leather pants and these have the right amount of sexy detail, while still being casual enough to wear all the time.
Loose-Fit Linen T-Shirt, $129
These loose-fitting knits are perfect for a night out paired with leather pants or with jeans for a casual weekend look.
Skinny Double-Zipper Jeans, $179
Anine frequently models these signature rock 'n' roll jeans for her Instagram followers. We love the super-skinny cut.
Quilted Leather Jacket, $1099
Quilting gives this leather jacket a sophisticated twist. We would live in this all year long if we could.