Edgy Updates For Your LBD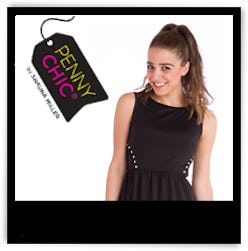 Having a fantastic LBD in your wardrobe is a no-brainer, but what to do with an oldie (but goodie!) that has long since been replaced? Time to put on your crafty hat, as a few simple updates take a basic black dress to one of much edgier proportions. Shauna Miller of Penny Chic took the lead on this DIY, and laid out step-by-step instructions on how to get the look!
Click through to learn how to spice up your little black dress!
What You'll Need: • A little black dress (pictured: Penny Chic Skater dress) • A sharp pair of scissors • Sobo fabric glue or E-6000 glue • Sewing needle and dark thread • Individual silver studs • Swatch of lace fabric (only if you are not using the Skater dress)
Turn the dress inside out and cut along the inset seam on both sides of the dress to create a cutout. Next, cut along the seam of the lace sleeve (if applicable).
Sew the lace fabric to the inner seam of the inset of the dress.
Turn the dress right side out and place studs on dress in desired location along the outer seam. Remove studs individually and dab a small amount of glue to the inside of the stud. Place stud into position on dress and press firmly. Repeat steps for each stud.
Once studs are set, take your updated LBD out for a spin—dinner date, girl's night, wherever the evening leads you!