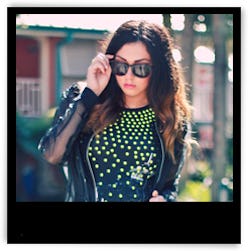 Nary a day goes by at RZHQ without us lusting after one Proenza Schouler piece or another. Sharing our utmost affection for the designer, blogger Kelly Shami drew inspiration from the Spring '13 line to recreate a studded standout frock just in time for the warm weather ahead. So grab your tools and get to DIYing—the designer look for less awaits you!
Click through to learn how to recreate a Proenza-inspired graphic dress!
What You'll Need: - A graphic-print dress - Neon iron-on studs - Grommet kit - Small scissors - Iron
Start at the neckline of your dress and gently place neon studs where you would like to set them. To achieve the Proenza-inspired look, try your best to align them neatly at the beginning. Keep repeating this stud pattern.
As you begin to reach the waist area of the dress, begin to randomly place studs against the grain of the pattern to create a waterfall/dripping effect.
Once you're happy with the design, use a separate piece of cloth or fabric to protect your loose studs from the iron. By gently placing the fabric over your design, you can now iron your studs on safely without ruining them with heat.
Proenza uses grommets to continue this effect on the bottom—you can do this also! I chose to align grommets on the bottom hemline since my silhouette is more of a body-con dress.
Cut a tiny hole to where you wish to place the grommet, then insert one side of the grommet. Hammer the other side with the tool in your grommet kit.
Repeat this step until achieving your desired look along the hemline.
You're all done! A Proenza-esque dress without the runway cost is now yours!