Stylish Scribe: Fancy Up Your Basic Pens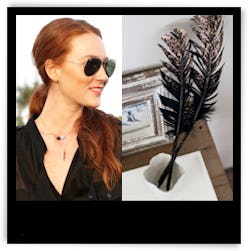 We're always partial to things with a bit of sparkle, but during the holiday months our obsession seems to grow tenfold. Always one to up the glam factor, Could I Have That? blogger Samantha Hutchinson shows us how to fancy up our basic pens with festive feathers and of course, a touch of glitter. Give 'em as gifts or make writing holiday cards that much more chic!
Click through to learn how to fancy up your pens with feathers!
What you'll need: Any type of feather (pick one up at an art store!) Black or white duck tape Decoupage glue Glitter Scissors A paintbrush Pen filler
Paint on the glue where you want the glitter to go on your feather. You can do just the top quarter of the feather or adjust for more or less depending on how much sparkle you want.
Sprinkle the glitter over your feather or just dab it into a pile of glitter. Go back over it with a paintbrush to break up any clumps and create a more even coverage.
Cut the very tip of the feather so it fits properly into the tube of the pen filler.
Cut strips of duck tape and slowly tape the pen and feather together in pieces—the smaller the sections, the less bulky the tape will look. Wind around the pen filler to create a cohesive look.
Proudly display your new feather pens on your own desktop, or spread the love and give as holiday gifts!