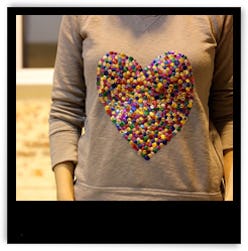 It's safe to assume we all have a bevy of basics buried in the depths of our closet—and now, there's no better time than to dig 'em out and get crafty! Kiley Stenberg from A Sequin Dress At Breakfast presents a way cute and way easy update to any forgotten t-shirt or sweatshirt that'll guarantee some solid wear for casual occasions.
Click through to learn how to make your own sparkly sweatshirt!
What You'll Need: A plain sweatshirt or tshirt Paper to create a basic stencil Fabric glue Flat loose sequins
Start out with a simple, basic shirt. Based on your shirt (oversize, fitted, etc.) or graphic preference, cut out a heart stencil sized to your liking—and don't worry about making the stencil a perfect heart shape.
Place a magazine inside the sweatshirt to help give you a sturdy base and trace the stencil onto your shirt. Run a line of glue a few inches at a time around your heart outline, placing sequins one by one over the glue.
Continue filling in sequins until the entire heart is full. If necessary, use tweezers to press the sequins down firmly into place.
Make sure to let the sequins dry overnight. Then wear to your heart's desire! See? Super easy and cute!