Girly-Chic Done Right: Meet This Week's Blogger Crush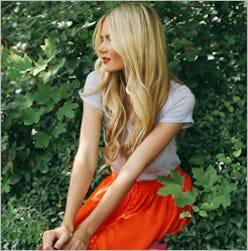 Don't let her blog title fool you—Amber Fillerup, the brains behind Barefoot Blonde, is still a proponent of great shoes! A modern day Barbie, Miss Fillerup's page is full of girly getups spanning all hues of the rainbow! It's kind of impossible not to smile while scrolling—bright colors, blonde hair and grins galore…what's not to love?!
The Basics:
Amber, 23, Salt Lake City
Her style in 5 words:
On trend, colorful, funky, casual
Her favorite shopping spots:
"Revolve Clothing, Nordstrom, Shopbop and ASOS!" (seen here in a Local Celebrity sweater from Revolve)
What she's currently coveting:
Balenciaga leather jacket ($2850), Isabel Marant wedge boots ($840), Tibi intarsia sweater ($265)
Favorite beauty looks for fall:
"I love the fall look seen on the runway of adding a little bit of dark blue or dark green to your lid using a colored eye liner...I love these blue and green options from Sephora. I also of course love the mulberry lip! This shade from MAC is my favorite."