Spotlight: 10 Dresses To See You Through Summer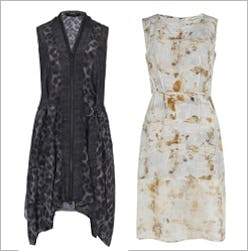 'Tis the season to swap out your standard LBDs for something a little more show-stopping. We know the task of finding that perfect dress can be a bit trying; thankfully, the masterful style savants at AllSaints have given us a ravishing assortment of frocks catered to stylish nights out and ladylike brunches alike. Peruse our favorite looks to update your wardrobes before summer's start.
AllSaints Snake Lewis Dress, $435
The combination of au courant leopard print and zipper detailing make this dress both irresistibly chic and oh-so sexy.
AllSaints Smock Dress, $228
An update on your typical LWD, this polished frock features a delicate collar and detailed ruching.
AllSaints Viper Dress, $498
For a glam night out, try this spectacular sequined mirrored dress in shades of blue and gold.
AllSaints Brochette Dress, $435
We're swooning over this black beaut that's sure to put your other LBDs to shame.
AllSaints Balentina Dress, $435
Shine chic in this gold rockstar gown—which could easily be donned in the daytime!
AllSaints Lace Flag Maxi Dress, $218
We can't get enough of this stunning white maxi with exceptional geometric embroidering.
AllSaints Haruko Dress, $218
Exude confidence and elegance in this picturesque pick, featuring an understated leopard graphic print.
AllSaints Reika Denim Dress, $168
Boasting a deep V-neck, this bleached-out denim dress is the ultimate cool, it-girl staple.
AllSaints Fleur Check Dress, $335
If you're looking for a more feminine frock, try this delicate option with photographic florals.
AllSaints Jaz Tee Dress, $218
The ultimate layering piece, this sleek striped metallic dress is inspired by a vintage knit.