Net-a-Porter's President On What To Invest In This Fall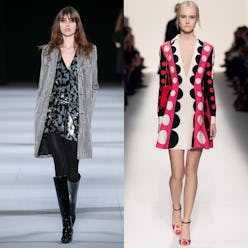 From '60s details and knitted fabrics to trippy prints and voluminous cuts, there are dozens of trends to consider trying this fall but one thing's for sure: attempting to purchase and test run them all is a headache waiting to happen. Helping you sort through the noise is Net-a-Porter's president, runway-to-retail expert, Alison Loehnis. Her cliff notes on the trend-driven pieces you won't regret investing in this fall, below.
See Alison's Picks
The Reworked Standby
"Minidresses are everywhere right now. Look for a pared down silhouette with a standout print like the animal print dresses from Saint Laurent or the '60s polka dot dresses from Valentino."
(L) Saint Laurent, (R) Valentino, Fall 2014. Photos: Courtesy
The Killer Color Combo
"Pastel was a big trend for spring that we're seeing carry over into winter. These colors look great styled with white or black pieces but we especially love them dressed up with metallics."
The Dress Alternative
"In terms of new wardrobe essentials, it's culottes all the way. They're great for the office, of course, but can also go straight into nighttime when paired with a great heel and some jewelry."
(L) Tibi, (R) Marni, Fall 2014. Photos: Courtesy, First View
The '90s Throwback
"The slip dress is so easy to wear on it's own now and then layer up with a cozy knit and a pair of ankle boots when it gets a bit colder. It's one of those perennial pieces that always looks great."
The All-American Moment
"Fringe add-ons feel right at home in your summer wardrobe but look great for fall too. It's a trend you can try at any price point this season and it makes such an impact."
Photo: Vanessa Jackman
The Summer Sweater
"Cozy sleeveless knitwear is also very seasonally versatile. Once it gets too cold for bare arms, this piece can be worn almost as outerwear or over a button-down shirt."
The Practical Buy
"It's all about the parka and the puffer jacket for fall and winter. We're also really into the cozy shearling coats we saw at The Row this season."
Photo: Vanessa Jackman
The 9-to-5 Purchase
"There's a lot of mannish, masculine tailoring coming through this season which is so chic. Haider Ackermann's maxi-length coat is a great example of this look."
(L) Celine, (R) Haider Ackermann, Fall 2014. Photos: First View
The Silhouette Revamp
"We're obsessed with capes, thanks to Saint Laurent, as well as blanket coats, like ones we saw at Burberry. They're cozy but also really stylish and come in every fabric and color imaginable."
The 2.0 Workout Pant
"Having a fantastic pair of leggings is essential. If you're running off to something after the gym, you can just put on a great sweater or a great top and you look chic and pulled together."
The No Nonsense Boot
"We're seeing more army influenced boots and tougher styles this fall from the likes of Givenchy, Burberry and Church's. For the woman who can't part with a sexy, feminine heel, Gianvito Rossi and Laurence Decade have great options."
Photo: Vanessa Jackman
The Ladylike Work Shirt
"There's a new shirt brand we've picked up this season called Atlantique Ascoli that takes very classic shirt styles done in amazing fabrications. They're fabulous."