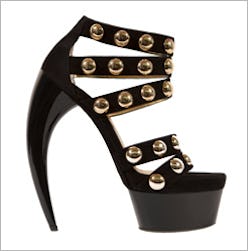 To help you avoid a typical Tuesday, we present a pair of staggering heels that are anything but average: Walter Steiger's Unicorn Voodoo Platforms.
Cast in Walter Steiger's signature curvy silhouette with oversized gold studs adorning the straps, these crazy-high heels will start your fall wardrobe off the right, fashion-forward foot. For those of you who are not yet ready to slip into boots, these autumn-appropriate shoes are the perfect pick to hold you over, thanks to their boot-like shape. Try them with fall's in-demand leather leggings and a studded denim top for an edgy, editor-approved look.
Availability: Walter Steiger Unicorn Voodoo Platforms ($1450, 212.826.7171). For additional information, visit WalterSteiger.com.