On Our Radar: W. Britt Jewelry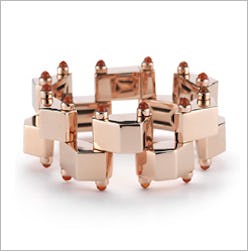 If you're in need of a timeless accessory that's as wearable as it is chic, look no further than W. Britt, the latest jewelry line we love inspired by both geometric and industrial design elements.
Reflecting designer Brittany Weiss' background as an engineering student and her adoration for fashion, the pieces from her debut collection fuse bold beauty with influence from cityscapes and architectural forms. Our favorite bauble from her Building Block line, a chunky bracelet curated in gorgeous rose gold hardware, is undeniably the most versatile piece we've seen this season. Both bold and feminine in design, envision this piece clasped around your wrist during any occasion—consider it an instant outfit enhancer.
Availability: W. Britt Big Block Bracelet ($695).