These One-Of-A-Kind Vintage Engagement Rings Are Absolutely Stunning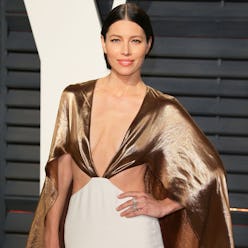 Quite possibly the most romantic of jewelry genres, vintage engagement rings are not only timeless but often hold sentimental value that's second to none. (Kate Middleton, we're looking at you.) And one of the best aspects of owning a vintage engagement ring is that it's guaranteed to be one-of-a-kind, a touching sentiment that celebrities from Jessica Biel to Natalie Portman to Olivia Wilde are well aware of. When it comes to antique sparklers, navigating the various periods is your first task in identifying what style most suits you. Here, we break down five popular vintage categories to inspire your engagement ring style.
Stunning Vintage Engagement Rings
Dating from approximately the 1710s to 1830s, Georgian rings are highly decorative and often include a few irregularities (we call that character). Common shapes are clusters made up of diamonds, pearls and colored gemstones, and they are most often set in gold and silver. This elaborate ornamentation reads a bit medieval—yet entirely romantic.
From approximately the 1830s to 1900s, Victorian rings were designed to reflect wealth, social standing and status. Basically, the more ornate your ring, the higher your status. Georgian influences remain as floral motifs, with intricate engraving becoming more prevalent. Dark-colored gemstones and precious stones like garnet and onyx were often incorporated. More is definitely more with this period.
Derived from approximately 1901 to 1910, this decidedly lighter aesthetic grew to popularity with frilled designs like airy lacework and filigree. A theme of femininity prevailed with softly colored stones, diamond halos and pearls being extremely of-the-moment. The brilliant cut was founded in this period as well, further enhancing the theme of lightness.
Geometric shapes, contrasting colors and hefty use of diamond and platinum combinations (or "white" jewelry)—often with linear architectural and industrial influences—are signature of this period, from approximately 1920 to 1939. Similar to Victorian rings, exaggerated detailing applies here, with silhouettes often going bigger than in previous eras, taking up more space on the finger for optimal sparkle.
For more of a modern take on vintage, retro (1935 to 1950) and mid-century (1940s to 1960s) rings reintroduce curved shapes and feminine details after the rigidity of art deco as well as the use of gold and contrasting metals. Chunkier silhouettes with rubies and sapphires are abundant (an homage to patriotism); however, colored stones take a backseat to diamonds with more modern mid-century designs.