Versus Versace Fall 2013 Safety Pin Ankle Boots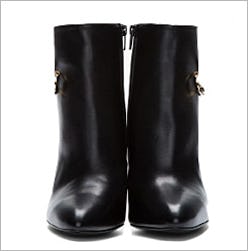 While we're still swooning over the summer season's awesome buys (hel-lo, maj bikinis), we're also keeping an eye on the gorgeous pre-fall and fall 2013 pieces hitting stores this month, especially those wear-every-week items we know will work hard for us next season. Case in point: these stunning stiletto ankle boots from Versus by Versace.
From the perfectly pointed toe and buffed leather body, to the glam gold heel and iconic safety pin accent, these ankle boots are pure fashion perfection. (Sophistication meets glamour meets edge – what more could you ask for, really?) Pick them up now and your fall wardrobe will be off to one uber-fashionable start.
Availability: Versus Versace Gold-Trimmed Army Boots, $625