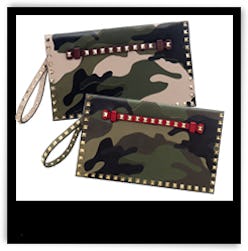 As opposed to the technical intent of camouflage, military-printed pieces are certain to get you noticed! A hot commodity this season (and surely, next), the earth-toned trend is begging to find its way into your daily dressing agenda. One infallible option is to carry Valentino's Rockstud Camouflage Clutch.
From the Italian label's capsule collection of camo-cool accessories for spring, this wristlet exudes attitude through smooth leather, platinum studs and multi-green hues. Just the thing to stylishly offset your more feminine ensembles, it is the perfect catch (in two versatile versions: khaki and all-green) to sling around during date night. Simply throw your evening-out essentials inside—think: red lipstick, blotting papers and roll-on perfume—and you'll be armed and glamorous wherever you go.
Availability: Valentino Rockstud Camouflage Clutch ($1695). For additional information, visit Valentino.com.
P.S. Though spring is known for its palette of bright colors and prints, we love the look of dark separates from AllSaints thrown into the mix!