Introducing The 'My Own Code' Clutch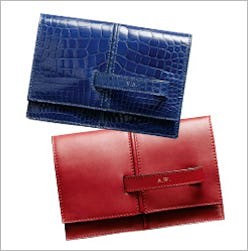 If you've looked at any street style photos over the past year, it should come as no surprise that Valentino's 'rockstuds' defined the accessories that every girl wanted. Now we've got our sights set on the next big thing from the Italian fashion powerhouse—and this time it's personal. This fall marks the launch of the 'My Own Code' clutch, which features custom-embossed monogram on its front-facing handle.
With two leather-lined internal compartments, this clutch is anything but compact and leaves plenty of room to take you from day to night. In a serious selection of colors and leathers (think: bold-color leather, jewels and even fur), we can't stop crushing on this new collectible. Plus, the front leather strap lets you slip your hand right through for easy carrying and handling, putting your personal style on full display in a totally fresh way.
Availability: Valentino My Own Code Clutch in Cobalt Leather, $1945, Red Leather, $1945, Cobalt Croc, valentino.com for more info.