Purseblog's Best Travel Bags Under $500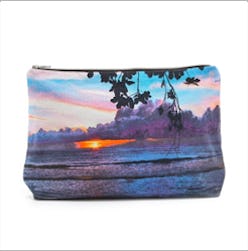 Now that Memorial Day weekend has come and gone, the summer travel season officially begins. Beaches and road trips are great, of course, but you can't enjoy the surf and sand until you've figured out how you're going to get your bikinis, beach blankets and sandals to your destination of choice. To that end, we've hunted down the best travel bags to get you through your long weekend in style. On a budget? The PurseBlog Team has found 6 great options, all under $500.
Coach Bleecker Canvas Beach Tote, $448
This tote might be earmarked for beach use, but we bet you won't be able to put it down.
Samuda Rocky Point Pouch, $65
Ditch your old cosmetics case (or your old iPad case, or your old snack bag – this thing is versatile) for this roomy Samudra beach-print pouch featuring a print that's both beautiful and resistant to obvious wear and tear.
LeSportsac Voyager Backpack, $128
Backpacks make great carry-on bags, and the glossy black finish on this one makes it look like it's from some ultra-modern, totally cool Japanese brand.
Cleobella Java Travel Duffel, $276
There's something about boho style and long weekend road trips that just make so much sense together.
Jack Spade Ombre Coal Tote, $125
Don't be afraid to borrow from the boys – this tote is a go-anywhere, do-anything option for both genders.
Longchamp Boxford Travel Bag, $320
If you want to be able to use your new travel gear year-round, this Longchamp weekender is incredibly expensive-looking and seasonless without emptying your travel fund.