Clutches That'll MAKE Your Outfit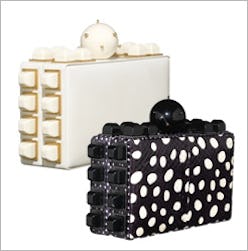 If you consider yourself an add-on aficionado like us, your first encounter with Tonya Hawkes' fall 2013 collection will lead to dropping jaws, a spike in heart rates, and the urgent race to laptops to hastily order one of these crafty clutches for yourself (hurry!).
Seeking inspiration from exotic animal skins and textures, Hawkes reinvents her trademark clutches by playing with prints, stripes and bi-color combos reflected in their signature lucite studding—perfection. Modern accents such as spiked-ball closures and natural, animal-inspired materials make for a harmonizing juxtaposition fit for any occasion. The latest in artful arm candy awaits you!
Availability: Tonya Hawkes Box Clutches ($1100-$1350). For more information, visit TonyaHawkes.com.