Vintage-Inspired Eyewear By Toms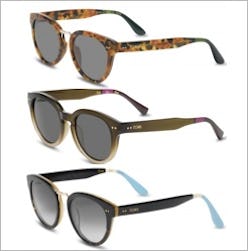 In the market for a cool, new pair of 'do not disturb' signs? Give sun-shy peepers an old-school makeover with two new retro styles from Toms!
Now available for fall, the Bellevue (round-lensed with keyhole bridge detailing) and Yvette (equipped with a metal bridge and maj vintage-vibes) styles are assured to add a gorgeous, time-honored punch to your daytime dressing. It gets better: when purchasing a pair of these stunners, proceeds aid in providing new prescription lenses to middle school students in the States—now how chic is that?
Availability: Shop Toms Bellevue ($98) and Yvette ($139) Vintage-Inspired Eyewear. For more information, visit Toms.com.