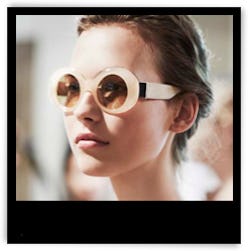 If you are going to be covering up your pretty peepers, you'd better do so in style! Considering the slew of statement frames on the market this spring—enter, The Row Oval Sunglasses—you have your decision-making cut out for you. But we're confident you'll find some fresh shade in no time!
As stunning an option as any, our sunnies du jour are the perfect pick to wear when it's warm out. Their mod oval shape is sure to inspire a cheery seasonal getup, while their colored lenses promise 100% UV protection. Did we mention they were produced in four fun tones? Dibs on the brilliant beige! Whether you soon call these retro beauts or another cool pair from The Row's spring eyewear collection your own, one thing is certain: the sun doesn't stand a chance!
Availability: The Row Oval Sunglasses ($450). For additional information, visit Therow.com.