Braided Bracelets For An Empowering Cause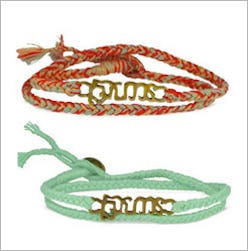 When we recently learned of The Brave Collection 's bracelets for a bold cause, we immediately wanted to spread the word in hopes that you, too, will join this courageous movement! As a tribute to sexual trafficking survivors that she met on a trip to Cambodia (notably: "the bravest women she's ever met"), founder Jessica Hendricks was compelled to create new opportunities and an empowered community for these artisans—and thus, The Brave Collection was born.
With each bracelet sold, donations are made to non-profits such as Somaly Mam Foundation and Half the Sky Movement. Ready to make a purchase? Be sure to enter code "ZOEreport" at checkout until 5/7 and the cost of two months of school supplies will be donated in your honor to the Somaly Mam Foundation. Pass it on—courage is contagious!
Availability: The Brave Collection Bracelets ($38 each). For additional information, visit Thebravecollection.com.