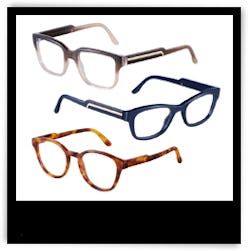 Stella McCartney's unparalleled line has become synonymous with impeccable tailoring, natural confidence and sexy femininity. Since launching her collection in 2001, the British designer has added a stunning selection of accessories, lingerie, sunglasses, kids clothes and more to her name. And now, we are pleased to announce that McCartney has officially unveiled her first assortment of optical eyewear!
Drawing inspiration from the style guru's signature masculine-meets-feminine aesthetic, this optical collection comprises a range of cutting-edge models that correspond with the eco-friendly philosophy of the brand. With a variety of contemporary and vintage-blend shapes in shades of burgundy, taupe, black, teal and tortoise, these specs—which are made from natural and commonly found organic compounds—are sure to add a dash of sleek sophistication to any ensemble. How would we style them? Try McCartney's lenses with a tailored blazer, floral pants and wedge sandals for a geek-chic getup that will have all eyes on you!
Availability: Stella McCartney Optical Collection ($230-$245, available at all Neiman Marcus stores). For additional information, visit Stellamccartney.com.