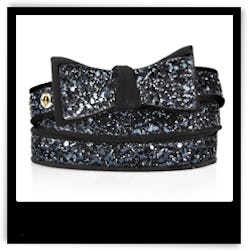 It's our party and we'll sparkle if we want to! To prove it, we rounded up a few of our current favorite shimmering things—from sprinkles nail polish to a sequined headband. Shop them now and you'll glisten like a disco ball from head to toe.
Miu Miu, Glitter-finished Belt, $350
Bedazzle your waistline with this bow-u-tiful belt from Miu Miu.
Eugenia Kim, Daniella Sequined Headband, $140
Over your ordinary hair accessories? Adorn yourself in this sequined silk-satin headband.
Nails Inc., Nail Polish, $10 each
Give your nails the gift of glitz and glamour with this cupcake-reminiscent polish.
Zara, Shiny Sandals, $140
Let your stems take center stage with these encrusted ankle-strap heels.
Nine West, Agenda Clutch, $69
Choose to carry this glittery gold clutch to ensure your getup goes over gorgeously.