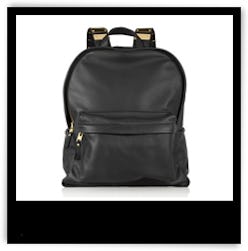 No longer just a staple at the schoolyard, backpacks have made quite a name for themselves in the hands of fashion students. Do you consider yourself a scholar of style? Then you may want to check out Sophie Hulme's Embellished Leather Backpack.
Dreamt up in supple leather with gold-tone hardware on the straps, this of-the-moment carryall is truly one-of-a-kind. Channeling rising London star Hulme's luxurious and cool-girl sensibilities, it is a worthy candidate to consider incorporating into your spring accessory series. As for what to rock it with? We suggest a graphic dress, sporty sandals and leather planner to create an inspiring ensemble to rock on the campus of your life.
Availability: Sophie Hulme Leather Backpack ($765). For additional retailer information, visit Sophiehulme.com.
P.S. Want a little more glamour in your Instagram feed? Follow @TheZoeReport for an exclusive look into RZ HQ!