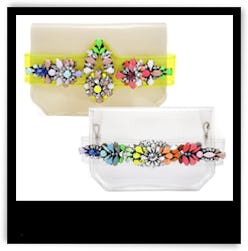 No one likes to walk out the front door empty-handed, especially when embarking on a big night out. That being said, we persistently keep our eyes peeled for arresting new arm candy. Meet: the Shourouk Clutch!
Fresh territory for the eponymous French jeweler, this pouch is among her first clutch designs. A bauble you can carry, it features a tortoise PVC body with enameled Swarovski crystals and a detachable brass chain. Available in an assortment of eye-catching versions, you would be wise to get your paws on one for spring!
Availability: Shourouk Clutch ($770-1160, available at Grethen House, 952.926.8725). For additional information, visit Shourouk.com.