Battle Hunger With A Bold Bauble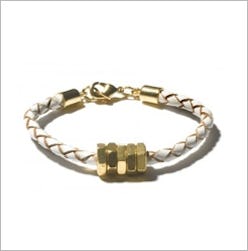 When it comes to giving back to those in need, leave it to TOMS to provide the public with a slew of socially conscious buys that are equally as chic as they are charitable. Recently, TOMS launched the Marketplace, an e-commerce outlet designed to house thirty innovative brands and over 200 shoppable items that pay it forward in a pretty glam way.
Among the many covetable collections we've been eyeing within the Marketplace, we're pretty obsessed with Half United, a recycled bauble brand that supports the fight against world hunger—pretty maj, no? Featuring necklaces and bracelets fashioned from recycled bullet casings and brass-cast apple seeds that aid children in need, we're layering these edgy accents among our existing arm parties and adding to our dainty necklace collections ASAP.
Availability: Shop Half United jewelry exclusively on Toms Marketplace ($32-$45).