Shoe Designer Chrissie Morris on Her Fave Trends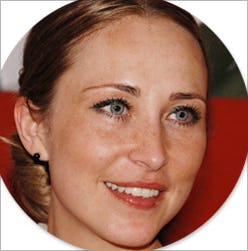 Fans of taller-than-tall heels, rejoice! Shoe designer Chrissie Morris is making some seriously sexy styles for you to fall in love with this season. Here, the newbie designer shares some of her inspirations and philosophies on the art of making a gorgeous pair of heels.
How she got her start… "I got my start making custom shoes for private clients in London shortly after gaining my master's in fashion design in Milan."
Her biggest challenge as a designer… "A constant challenge is to make a shoe with integrity, that is well-designed and meticulously handcrafted, so that a woman like me can know that she is buying something that is worth the price on the tag (not just a cleverly-marketed and advertised product)."
Her all-time favorite shoe… "This is such a difficult question, as I have seen many beautiful shoes; shoes that were part of a specific moment, or just looked right for their times, and those that challenged the way we look at footwear."
"In no particular order, I'm thinking of David Bowie's palm tree platforms by Kansai Yamamoto, Vivienne Westwood's exaggerated lace-up court shoe that Naomi Campbell stylishly tumbled in on the runway, a gold and black Arabesque flat mule from the innovative American duo, Susan Bennis and Warren Edwards, and the Nike Air Max."
"That said, who's to say what scraps, clips and sketches will be on my mood board in six months!"
The one pair of shoes should every woman own… "Every woman should own at least one perfectly fitting pair that sparkles, at least theoretically, on the foot."
The shoe trends she loves right now… "While I tend to avoid what are considered trends, I think the return of the single sole looks fresh, and I love a bootie with a thicker block heel."
Her tips for walking in, wearing in, and maintaining heels… "1.) Buy the right size, i.e. do not squeeze your foot into the wrong one., 2.) Listen and enjoy the music of soles against the ground., 3.) Clean or buff after use, and have a good shoe doctor around."
Ready for some proper shoe gazing? Shop 10 styles from Chrissie's newest collection right here.