On Our Radar: Sheer Addiction Jewelry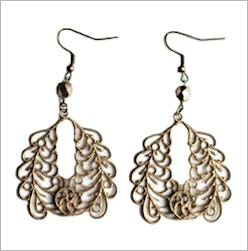 Attention accessory addicts: if you have a soft spot for baubles that could have been plucked from your grandmother's jewelry chest, then you'll no doubt be dazzled by Sheer Addiction Jewelry!
Made beautiful by mixing metal chains, vintage-inspired charms and various other plated adornments, Sheer Addiction Jewelry's fall line fuses antique elements with a highly wearable, of-the-moment appearance. The collection, inspired by the architecture of Switzerland, features a batch of bracelets, multi-strand necklaces and collars as well as gorgeous statement earrings. We're totally addicted, are you?
Availability: Shop Sheer Addiction Jewelry ($42-$420).