Personalize Your Picture-Taking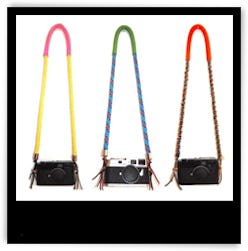 You've probably gathered by now that your Team Zoe editors are completely consumed by anything and everything music-festival related—Coachella starts tomorrow, after all! While we've already covered concert-appropriate style and beauty, we thought we'd address a more utilitarian aspect of the upcoming events. So today, we're featuring chic, limited-edition camera straps from an out-of-this-world collaboration between Sarah Frances Kuhn and Meredith Wendell.
Kuhn, an accessories designer based in Brooklyn, and Meredith and Wendell German, the duo behind Meredith Wendell, came together to create four fabulous camera strap styles ideal for festival outings and summer vacays alike! Using materials from past Meredith Wendell collections, the pieces feature Italian leather, pop-colored rope and genuine Scottish plaid. Personalize your Polaroid with one of these collaborative chains, and you're point-and-shoot will turn into one superbly stylish accessory!
Availability: SFK + Meredith Wendell Camera Straps ($125). For additional information, visit Sarahfranceskuhn.com.