See What's Inside Our Summer Bag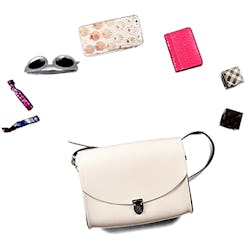 Let's be real: Who has time to switch out their purse for different occasions? That's why every woman needs one great bag that will carry her from day to night with ease. And lucky for us, the Cambridge Satchel Company push-lock handbag from our summer Box of Style is just the accessory for the job. Appropriate for both casual, daytime jaunts and dressed-up evenings out on the town, this pretty little carryall has you covered for any and all glamorous moments ahead. Watch this season's must-have in action (and the chic little extras we're stashing in it).
The summer Box of Style—which includes this stunning cross body—is officially sold-out. The good news: You can still become a Box of Style member in time for our fall delivery, shipping September 1. If you're a fan of the hero product we just announced, you're going to love everything else. Trust us.