See How Team Zoe Layers Jewelry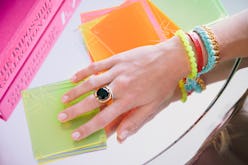 If you're anything like us, your jewelry box is brimming with gorgeous necklace and bracelet options, which in turn makes committing to a single piece nearly impossible. Thankfully piling on baubles is perfectly on trend, but doing it well can feel like an art form. Master the look by keeping a few essential points in mind: Proportions are key so experiment with various lengths and sizes, don't be afraid of contrasting colors and textures, and feel free to mix metals. Need some visual aids? Click through to see how Team Zoe mixes their go-to Coordinates Collection pieces with other accessories. Now get to stacking!
Stephanie Montes, Beauty Editor
"Layering your jewelry is an effortless way to give a plain tee and boyfriend jeans some oomph. I go for dainty necklaces in mixed metals and lengths because they're subtle enough to wear every day and distinctive enough to become your signature look."
Nicole Cutright, Account Manager
"Contrasting a chunky, jewel-encrusted piece with daintier options is a great way to play with proportions. Plus, it's fun to try out different combinations!"
Kate Wolfson, Freelance Fashion & Beauty Editor
"My wardrobe consists mainly of solid colors and tailored separates, which means I rely on jewelry to add a dash of personality to my everyday look. I love the idea of mixing dainty pieces with glitzy ones."
Nicky Deam, Editorial Manager
"I wear a lot of neutrals so sometimes I like to up the ante with bright jewelry. It's an easy way to introduce a burst of color into your look."
Jordan Silver, Marketing Manager
"Being surrounded by all the gorgeous jewelry at Rachel Zoe headquarters gives me serious girl-style envy. I try to keep my jewelry layering refined and simple—I love the texture my Coordinates cuffs add to a simple leather watch. It's crucial my jewelry go with any outfit."