Go '40s-Chic With Sarah Flint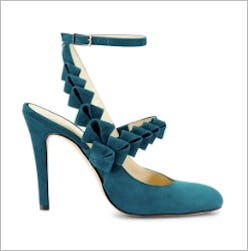 Say hello to Sarah Flint and her '1940's-meets-modern-glamour' footwear collection, which just debuted on a glossy new e-commerce site! With super-sweet soles and luxe, leather boots, you're guaranteed to be swept off your feet, literally.
Ever-present in her designs, Flint's cunning attention to details (cut-outs and beautiful stitching galore!) is accompanied by her use of timeless, feminine silhouettes that will take you through the mid-century and beyond gorgeously. Still dreaming of the fall runways? Channel the energy of your fashion-focused mindset into a brand new pair of kicks à la Sarah Flint. Happy shopping!
Availability: Shop Sarah Flint Fall/Winter 2013 ($545-$1195).