This Is The Sandal Trend All Fashion Girls Will Be Wearing, According To Net-A-Porter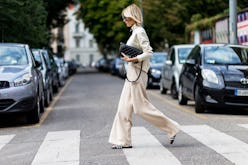 As you ready your summer footwear wardrobe, you're likely overwhelmed by the number of sandal options. To help streamline your search, we tapped Tracy Taylor, Senior Style Editor at Net-a-Porter, to share the top sandal trend of the season. Here, she breaks down the style you need to own and shares a few of her favorites.
"The sandal of the season is a pool slide, which happens to be the perfect sandal choice for festival season because it's flat, and in some cases even cushioned! It also fortuitously combines two top spring trends: sports couture and boudoir chic. The sporty vibe comes from the substantial silhouette, while the boudoir sentiment is delivered via the ease of a slip-on. Whether you opt for a hip-hop-inspired version or a sleek minimalist style, you can't go wrong."