Rodger's Pick: Salt Optics Glasses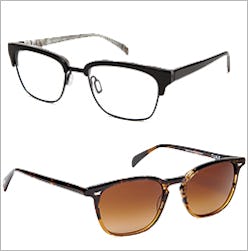 Whether you're striving for 20/20 vision or perhaps a bit of shade, Salt Optics' glasses serve up a cool array of opticals and sunnies for men and women. Honing in on options for the dudes, RB fell partial to the brand's eyewear offerings while perusing the site with his fellow male digis at RZHQ. Lending a hipster edge to classic glasses, Rodger's says he's "into the Harlan frames and the Darby shades" for a retro-cool appeal. Look sharp in Salt Optics by teaming your pair du jour with a slouchy beanie, leather jacket and desert boots.
Availability: For purchase and pricing information, visit SaltOptics.com.