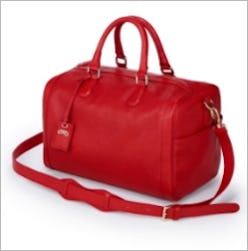 We're constantly on the quest for chic carryalls, and today we've discovered yet another new fave. Meet RoviMoss, the LA-based handbag line owned by friends Betty Hsu and Cathy Lee, who started out working behind the scenes at other fashion labels before launching this classic, covetable line. The fall 2013 range, which just launched today, features a variety of sophisticated styles in great fall colors like purple, blue, and emerald green at prices that won't induce major sticker shock ($295-$725).
Our fave? The "Go" en rouge: a roomy classic reborn in a punchy red hue that will instantly freshen up your dark ensembles. Wherever your week takes you, this classic tote will be the perfect pop of color and just the right size for all of your day-to-day needs.
Availability: RoviMoss First Class Go2 Handbag in Red, $560.