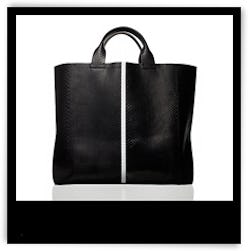 There are those people who never forget a face, but our claim to pristine recollection is that we never forget a bag. One of the most memorable carryalls from the current season is Reed Krakoff's Track Tote. We first spotted the stunner on the runway (where else?) last September and it has stayed fresh on our mind ever since.
Though available in a few killer variations (including nude/white and metallic), we are biased to today's black and white version since it is so relevant to spring's B and W fixation. Designed in opulent python with full leather lining, the sizable beaut is a sure-fire stunning inclusion to one's accessory arsenal. Whether carried as a tote or folded over as displayed on the catwalk, Reed Krakoff's trophy purse will certainly look unforgettable styled with a lightweight knit, quilted skirt and strappy heels.
Availability: Reed Krakoff Track Tote ($3990). For additional information, visit Reedkrakoff.com.