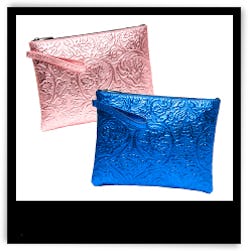 We saw plenty of brocade throughout the fall season and, considering how passionate we are about the ornate look, we're psyched to see it carry on into spring! Taking even bolder, brighter forms—read: today's Reece Hudson Brocade Pouchette—the textured trend will add depth to your lightweight wardrobe in the coming months.
Available in rosy pink and marine blue variations—both metallic—this raised-pattern clutch is just what we would expect from cool-girlReece Hudson, an eponymous NY designer we've had our eye on from the get-go. Conveniently crafted with a wrist strap, the pouch is simply begging you to slip your hand in for your next fancy night out. When pairing it with a peplum top, jacquard pants and metallic sandals, a girl really can't go wrong!
Availability: Reece Hudson Brocade Pouchette ($325). For additional information, visit Reecehudson.com.
P.S. Spring it on! Look to J Brand's latest collection—specifically our 20 favorite looks—to add a seriously sleek element to your wardrobe this season.