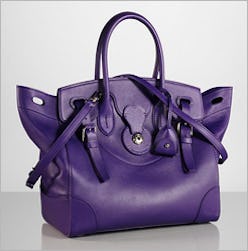 An updated version of a classic bag is always a breath of fresh air. More options, right? So, we couldn't help but get excited about the new Soft Ricky Bag, the younger sister of the original Ralph Lauren Ricky Bag.
Don't worry; she still retains the same signature hardware, belt duo and elegant 19th century saddle carrier shape. She just underwent a youthful makeover, resulting in a more relaxed look, softer leather and a range of hand-dyed vibrant colors such as lime, purple, yellow and electric blue. With a timeless yet contemporary appeal, the versatile Soft Ricky can be worn from day to night, undeniably exuding a look that is both ladylike and cool.
Availability: Ralph Lauren Soft Ricky Bag ($2500).