RZ Studio's Top 10 Fall Accessories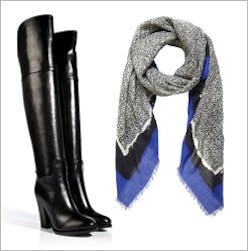 When it comes to selecting key add-ons for the season ahead, our styling studio knows a thing or two about which baubles, bags and boots you should choose to compile the ultimate accessories arsenal! Always willing to share with the group (those angels!), RZ Studio dishes on their top 10 items that guarantee to serve as fabulous complements to a myriad of autumn getups.
Cutler and Gross Round Sunglasses, $498
Why they're obsessed: "The ombre color effect puts a new spin on this classic shape—a subtle upgrade for your sunnies!"
Maiyet Peyton Shopper, $2095
Why they're obsessed: "Navy is a new great neutral for fall. The color blocking on this tote keeps it interesting, but the muted colors make it ideal for an everyday carry."
Ralph Lauren Collection Over-The-Knee Boots, $1800
Why they're obsessed: "The thick heel on these boots makes them comfortable for all-day wear. Plus, with a quick change of accessories, they can take you from work to drinks!"
Isabel Marant Wool Beanie, $127
Why they're obsessed: "This bright, cozy hat is a fun way to add a pop of color to your cold weather outfits."
Monique Pean Zebra Agate and Black Guatemalan Jade Necklace, $18095
Why they're obsessed: "This is the perfect statement piece in autumnal tones—can we take out a loan to own this dream necklace, please?!" (Available for purchase at Barneys Beverly Hills, call 310-276-4400 for additional information)
Burberry Studded Gloves, $695
Why they're obsessed: "These gloves keep you warm and act as a statement piece when its too cold to rock a cocktail ring."
Christian Dior Urbaine Boots, $990
Why they're obsessed: "These boots are perfect for fall, but don't hesitate to wear them all year-round! In the cooler months, pair with jeans or tights; come spring, they're a great match for dresses." (Available at Dior boutiques, call 1-800-929-DIOR for additional information)
Balenciaga Dentelle Indienne Scarf, $595
Why they're obsessed: "Scarves are an obvious must-have for fall—this printed cashmere version by Balenciaga adds a cool edge to any outfit while remaining practical."
Monique Pean Opalina Earrings, $2210
Why they're obsessed: "These dainty studs boast a fun and unique shape while offering a pop of color—the perfect everyday earring!"
Saint Laurent Leather Belt, $745
Why they're obsessed: "A classic black belt works to enhance any outfit. It can be worn over a dress, coat or with trousers—the options are endless."