Vintage-Inspired Jewelry By Rachel Zoe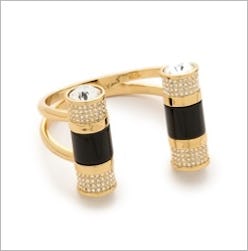 From deco-inspired statement pieces to easy everyday layering items, our chic boss knows a thing or two about creating versatile and glamorous jewelry. Get inspired and shop these nine polished styles from her fall collection.
Barrel Cuff Bracelet, $295
Black enamel and crystal accents give this double barrel cuff a luxe, vintage look. Wear one on each arm to perfectly accessorize your LBD.
Knot Necklace, $175
Layer to perfection with this versatile knotted necklace, it even looks gorgeous doubled-up for a shorter length.
Deco Ring, $125
Wear this sparkling statement ring solo or alongside your everyday pieces—glam results guaranteed.
Watchband Bracelet, $475
This ultra-cool watchband bracelet is a fall-friendly addition to your existing arm party!
Crystal Barrel Statement Necklace, $350
This chunky statement necklace looks best paired with a plunge-neck gown or maxi dress à la RZ.
Knot Stud Earrings, $75
The knotted design of these understated earrings lends a glam, time-honored twist.
Tiger's Eye Square Ring, $165
Infuse your look with a hint of edge via this tiger's eye cocktail ring.
Deco Cuff Bracelet, $225
Deco-style and adorned with '20s-inspired gems, this cuff is perfect for the vintage-obsessed.
Signature Link Necklace, $375
Make an impact, even in the simplest jeans-and-tee ensemble with this wear-everywhere link necklace.