Mighty Python: 10 Fierce Buys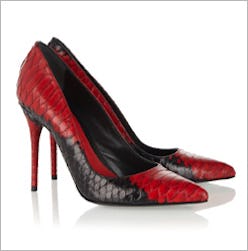 We all have a wild streak, even if it only comes out in small flashes. Python accessories carry an adventurous vibe; they are luxe, daring and not to be messed with. Let your accessories do the talking on your next night out and go for a fierce python piece — no doubt these vibrant patterns will get you in (and out!) of trouble.
Alexander McQueen Pumps, $1285
If you have a penchant for red nail polish, these heels are the perfect solution for when cold weather makes you hide your pretty pedi.
The Row Clutch, $6200
If you're splurging, may as well go for it. Luxury doesn't get much better than pristine, white python.
Vince Camuto Ring, $48
Since your handbag and shoes don't get much airtime on a dinner date – be sure to add an oversized cocktail ring. A flash of python will make all that cheers-ing way fun.
Brian Atwood Pumps, $1295
Don't be afraid to indulge in bold colors. Paired with flare-leg trousers or a floor length gown, this purple peek-a-boo moment will surely be the best part of your look.
DVF Clutch, $225
Natural python works with prints and patterns – so view this clutch as a neutral and wear it with everything.
Zara Pumps, $119
The cut of these pumps have a real retro vibe – wear with your favorite vintage blouse, pencil skirt and a stack of bakelite bangles.
Rachel Zoe Belt, $52
Every woman needs a skinny belt in her armory. Emerald python is a subtle hue that will pair with all the black in your closet. For those reluctant to branch out (ahem), it's also available in black.
Proenza Schouler Bag, $2335
It's classic, it's understated, it goes with everything. Let's face it, Proenza Schouler is genius!
Primary Clutch, $396
The oversized clutch is still having a moment. If you're carrying a handful of documents (or a resume!), this size allows the papers to lay flat without folding.
Michael Kors Bangle, $125
Some accessories are worthy of wearing everyday – this is one of them! Mix this nautical-inspired bangle in with your other bracelets and say welcome aboard.