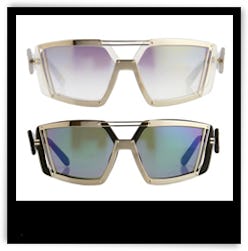 Earlier this week, we featured Erdem by Linda Farrow Projects' Mirrored Sunglasses, an effortless extension of the London label's retro meets extraterrestrial spring collection; and today, we're spotlighting another stellar Farrow collaboration—this time with none other than the ever-influential, Prabal Gurung. Like the Erdem sunnies, our eyewear du jour reflect the futuristic aesthetic prevalent in Gurung's runway show.
An extraordinary addition to any sunglass repertoire, these angular shades feature a stainless steel detail attached on top of the acetate frame. In three equally eye-catching colors—black and rainbow, smoky white and tortoise shell—they'll without a doubt lift up your ensembles to new heights. For a Team Zoe-approved outfit, wear Prabal Gurung by Linda Farrow's specs with an ethereal maxi dress, sparkling collar and bold purple lips. Voilà, style that's truly out of this world!
Availability: Prabal Gurung by Linda Farrow Projects Sunglasses($450). For additional information, visit Lindafarrow.com.