This New Jewelry Line Is Designed By A Celebrity Stylist (So You Know It's Good)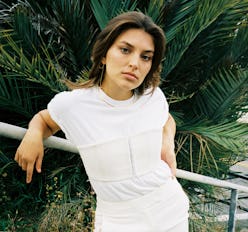 In this industry, there's no such thing as having one job title. (If you're familiar with our EIC, this shouldn't surprise you.) It's practically instinctual for fashion's greatest minds to utilize their knowledge and expertise to start a new business venture, all while nailing it in the process. Alyssa Sutter is the perfect example. The celebrity stylist, responsible for Lucy Hale's effortless red-carpet looks (among others), recently launched her own fine jewelry line: Petit Moi. When a styling pro takes on delicate staples meant to be worn every day, you know they're going to be good.
The new collection, which features a curated assortment of 14K minimalist styles made in Los Angeles, was designed by Alyssa with wearability and versatility in mind—think ear jackets that can be added to mini hoops and circle stud earrings for an entirely new look, reversible lariats and length-adjustable necklaces. Basically, you won't have to buy any other piece of jewelry again. As early adopters of Petit Moi—just like our friend Lucy—we felt it necessary to highlight some of our favorite items from the line and the outfit essentials we're pairing with them.
Petit Moi Perfection
Hook Lariat Necklace
Diamond Pinky Ring
Threaded Hoop Earring