A Cult-Fave Jewelry Designer To Know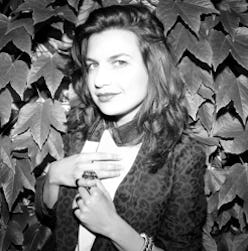 Annelise Michelson, a born and bred Parisian, has been involved in the industry as long as she can remember. Her affiliation with various, renowned fashion houses like Vanessa Bruno and Hermes proves that design has always been important to her. In 2010, her longtime passion for jewelry led her to develop her own line of handmade pieces, which has produced a cult-like following of celebrities. Check out Team Zoe contributor, Natacha Steven's exclusive interview with Michelson here.
Can you talk about the inspiration for your latest collection?
"I was very inspired by 19th century Symbolism in painting and Gothic architecture. I love the dark, romantic atmosphere of the two."
Photos: Natacha Steven.
How does it feel to see your creations worn by stars such as Lady Gaga and Alison Mosshart of The Kills? Do you make custom pieces for them or do they choose from your current collection?
"So far, stars have chosen pieces from my current collection. However, I would be happy to create special pieces for videos or events! In my collections, I have to keep my designs a bit commercial in order for them to sell. But what I enjoy the most is to create very original, unique pieces… The more extravagant they appear, the better.
I am very honored when artists wear my pieces. They have inspired me and I have great admiration for their work. When I hear that they like my line and wear my pieces, it is the best feeling ever for a designer."
What is your favorite piece that you have designed?
"I created a Carnivore Ear Cuff long ago, when ear cuffs weren't popular yet. I also adore my Carnivore Choker. Ferocious! My new Drops Collection is also very exciting!"
Have you ever explored careers outside of jewelry design?
"I used to be a fashion designer but something was missing! I love the three-dimensional aspect of jewelry. In this industry, you can create form with an object and fill the empty spaces however you please."
Photo: Annelise Michelson.
What do you hope to accomplish as a jewelry designer?
"I hope to bring timeless fun and original beauty to my designs, and that people will remember them forever."
Photos: Annelise Michelson.
What is your favorite childhood memory?
"When I was killing time in artists' ateliers. My parents were good friends with sculptors and painters, and my godfather was a tailor by trade. I disliked school and reality in general—I thought it was boring. I would enter my own, creative world when I was in those ateliers. I would create and paint all day, with any material I could get my hands on. It gave me a lot of happiness. Nothing has changed since then! I still feel happiest when I'm creating."
What's the last book you read and loved?
"I have only one book that I love, loved and will love forever: Les Fleurs du Mal by Charles Baudelaire."
What are your vices?
"Wine and men."
Describe yourself in five words or less ?
"Idealist, passionate and free."