Creating An Awesome Office Atmosphere
by Pamela Skaist-Levy and Gela Nash-Taylor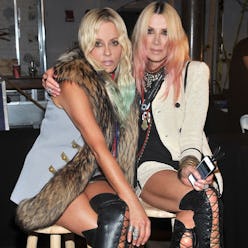 Now that summer is behind us (see ya summer Fridays), we'll take back-to-work motivation wherever we can get it. In the case of Pamela Skaist-Levy and Gela Nash-Taylor's headquarters, it comes in the form of chandeliers, silver platters and something called a "couch-desk" (a place where the founders of Juicy Couture recline on velour ottomans and wax poetic on the future of their new line, called simply Pam and Gela). Here, the dynamic duo shares the office policies they swear by for creating a nurturing and creative work environment.
See Where Pam & Gela Work Their Magic
Photo: Courtesy
Make Yourself At Home
"It's all about creating a space that allows you to be you. Ask yourself: What resets you? For us, we love art (Picasso and Klimt), the color yellow and birds, so these elements are a theme in our office décor. Bring something soothing or energizing into your workspace—whether it's a killer playlist, yummy-smelling candle or favorite tea. Introducing familiar things into your work environment has a way of breaking the rigid sense of the word 'office' and allowing you to fulfill your role just by being yourself."
Photo: Courtesy
Play Like A Team
"Not only do we like to make our office feel like home, we also surround ourselves with people who feel like family. Our team has been with us since our days at Juicy Couture. While you don't always choose your coworkers, we can speak to the value of our friendship as a key to our success. After all, you spend more time with your coworkers than almost anyone. In our book, The Glitter Plan, we like to say a good business partner is someone you trust and want to do tequila shots with. Whether your team members like to celebrate birthdays with special lunches, go for happy hour, throw an annual Christmas party or take a day out of the year for a team-bonding trip, it's important to break away from your screen and make the time to connect. We have always looked to Andy Warhol's factory as not only a model of a thriving, supportive environment but also a creative love fest—a family."
Photo: Courtesy
Manifest Your Passion
"We're big fans of inspiration boards. Whether it's a photo collage of a few of your favorite vacation snapshots, pictures of your lovely friends and family, magazine cutouts of coveted runway looks or a quote reminding you to focus—let the things that light you up do so! If space is a concern, try slipping your board under a desk pad or scan it to your desktop as a constant reminder to create the life you love."
Photo: Courtesy
Wear The Office Culture
"You dressed for the job you wanted, now dress for the one you have! Building up your wardrobe with a few office staples like a hound's-tooth blazer or cozy knit turtleneck cuts down on the stress of your morning routine and makes even the most daunting of Mondays exciting. At P&G headquarters, we're living in these pieces from our new fall collection."
Photos: Courtesy
Slip Into Something More Comfortable
"It's no secret we built an empire around a tracksuit. Our new line is an extension of this craving for comfort with a high-fashion edge. Try a matching pullover and pencil skirt in a single pattern or texture for an updated take on the classic. We're thinking Casual Mondays through Fridays."
Photos: Courtesy