One For The Boys: STAMPD Rolex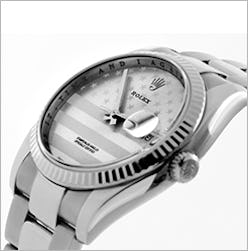 If you happen to have $15,000 laying around…how sick would it be to own this STAMPD Rolex?! Highly coveted by the dudes of RZHQ, this stars and stripes-emblazoned edition of the Oyster Perpetual Datejust just scored LA-based label STAMPD some major brownie points (in addition to many they'd already earned)! With a pair of quotations etched into its ultra-sleek stainless steel frame, this piece is a true standout for any guy who goes gaga for timepieces.
Availability: STAMPD Rolex Oyster Perpetual Datejust ($15,000). For additional information, visit www.stampdla.com.