Hear Us Out: Mismatched Earrings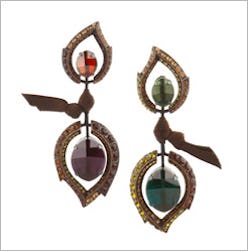 Mismatched earrings may seem strange at first, but the alternative approach will have your friends doing double takes. Talk about a one-two punch!
Judy Geib Gold Wheel Earrings, $1100
Made in Brooklyn, no two pieces from the designer's studio are alike.
Lanvin Mismatched Swarovski Clip Earrings, $1820
Clip-on earrings for those who loathe a copycat status.
Mr. Kate Decay Starburst Earrings, $49
Not only will these studs have you seeing stars, they're also out of this world!
Finn Black Heart and Arrow Studs, $485
How could you not fall in love with these dainty studs?
Monserat De Lucca Boy & Girl Earrings, $40
This kissing couple is beyond aw-dorable.
Arunashi Bejeweled Drop Earrings, $25800
Diamonds are a girl's best friend…especially when paired with gorgeous gem stones.
Daniela Villegas Mowli Earrings, $14250
Rugged and refined, these babies would make Mother Earth proud.
Pamela Love Rose Earrings, $190
Your inner flower child is about to have a field day.
Bing Bang Diamonds & Dollars Studs, $75